March 12, 2018
3 min read
Hypertension intervention in barbershops cuts BP levels
We were unable to process your request. Please try again later. If you continue to have this issue please contact customerservice@slackinc.com.
ORLANDO, Fla. — Health promotion in a barbershop setting was a useful intervention to target uncontrolled hypertension in the shops' black male patrons, according to a new study presented at the American College of Cardiology Scientific Session.
The study looked at 319 black male patrons of 52 black-owned barbershops in the Los Angeles region. Researchers analyzed changes in BP over time among those with uncontrolled hypertension (systolic BP 140 mm Hg or higher). The goal was to develop an effective intervention in a nontraditional health care setting to link health promotion by barbers to drug therapy by pharmacists, and then evaluate efficacy in a cluster randomized controlled trial.
BP reductions observed
In the intervention group, barbers encouraged their patrons with uncontrolled hypertension follow up with specialty trained pharmacists; pharmacists then met patrons each month at the barbershops, where they checked BP, prescribed medication and monitored electrolytes. This intervention was compared to an active control approach, by which barbers encouraged lifestyle modification and doctor appointments.
At 6 months, mean systolic BP decreased by 27 mm Hg in the barbershop intervention group vs. 9.3 mm Hg in the active control group. Thus, the mean reduction in systolic BP was 21.6 mm Hg greater with the barbershop intervention (95% CI, 14.7-28.4; P < .001). Mean baseline systolic BP was 153 to 154 mm Hg at baseline.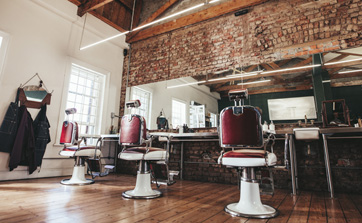 Overall, 63.6% of patrons in the intervention group achieved a BP level < 130/80 mm Hg vs. 11.7% of the active control group (P < .001).
Retention was high in the intervention group, at 95%.
'Taking care to where patients live'
Previous research has shown that equipping barbers, who remain trusted, consistent and convenient influencers for many black men, with health information can have a positive impact on health. The new study is unique because it combined barbershop-based health outreach with the delivery of care by medical professionals at the barbershop and evaluated subsequent efficacy with a randomized trial, according to a press release.
"Non-Hispanic black men made the cover of Time [magazine] for having the highest hypertension-related death rate in the United States," Ronald G. Victor, MD, director of the hypertension center and associate director of the Smidt Heart Institute at Cedars-Sinai, said during a presentation. "Black men have less physician interaction than black women and … lower rates of treatment and control of hypertension, thus the necessitating community outreach."
Victor emphasized the BP reductions observed in this study in this population, with the incorporation of pharmacist access in the barbershops
"Many black men have multiple cardiovascular risk factors, as was the case in our study. Marked blood pressure reduction is sustained using our approach and initiated widely to possibly reduce these high hypertension-disability and death rates among black men across the United States and we're very excited about future research," he said.
While discussing the findings during a press conference, Eileen M. Handberg, PhD, ARNP-BC, FACC, research professor of medicine and program director of Florida CARES, said this study represents "taking care to where patients live.
"The fact that, even in a control group, they got a 9-mm Hg improvement in BP control just going and sitting in a barber chair and talking to the barber on a regular basis is tremendous. This is something we would dream about in a blood pressure-lowering trial and they got that in usual care. …This is a home run," Handberg said. – by David Quaile and Katie Kalvaitis
References:
Victor RG, et al. ACC/NEJM Late-Breaking Clinical Trials. Presented at: American College of Cardiology Scientific Session; March 10-12, 2018; Orlando, Fla.
Victor RG, et al. N Engl J Med. 2018;doi:10.1056/NEJMoa1717250.
Disclosures: The study was funded by a grant from the National Heart, Lung and Blood Institute of the NIH. Handberg reports financial ties to various pharmaceutical and device companies.
Editor's note: This article was updated on March 13, 2018, to include more information and reaction on the study.