March 10, 2018
2 min read
Google search trends match heart disease patterns
We were unable to process your request. Please try again later. If you continue to have this issue please contact customerservice@slackinc.com.

Conor Senecal
ORLANDO, Fla. — Internet searches related to heart disease symptoms reflect temporal and geographic patterns of CHD prevalence, researchers reported in a new study.
"A patient whom I admitted to the hospital for an MI described typical symptoms, but when I asked what prompted him to come in, he said he had Googled the symptoms and knew they could be serious. That led me to look for a way to see how closely Google searches for these types of symptoms mirrored real-world epidemiology," Conor Senecal, MD, resident physician at Mayo Clinic in Rochester, Minnesota, told Cardiology Today.
Using Google Trends, a free, publicly available tool for analyzing search engine data, Senecal and colleagues tracked the frequency of searches for "chest pain," "chest pressure," "angina" and "chest tightness" from 2012 to 2017 among internet users in the United States, United Kingdom and Australia.
To evaluate geographic trends, the researchers compared the internet search data with information from Medicare beneficiary data on CHD hospitalizations from the CDC during 2012 to 2014. Results from the analysis showed a strong correlation between U.S. state CHD hospitalizations and frequency in internet searches for heart disease symptoms in each state.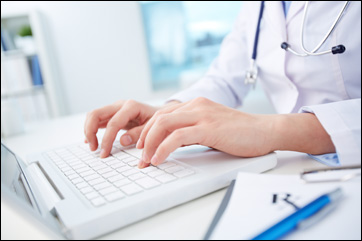 In all three countries, there was also significant seasonal and monthly variation in weekly search volume from 2012 to 2017. In the United States and the United Kingdom, searches peaked in the winter and hit the lowest points in the summer (P < .0001 for both). In Australia, searches peaked in the fall or winter and reached a nadir in the spring or summer (P < .0001).
The researchers also evaluated hourly search volume from 14 days in July 2017 and 14 days in December 2017 to examine diurnal patterns in internet searches. In all countries, search frequency was highest — increasing by 50% to 80% — during 6:00 a.m. to 8:00 a.m. local time, according to the data.
"It was really quite striking how strong the relationship [between searches and hospitalizations] was on a state-by-state basis. Also, the data discussing a morning peak of searches in all countries evaluated (similar to previously reported results for CHD) was remarkably consistent across countries and days," Senecal told Cardiology Today.
Several conclusions can be drawn from the study, he noted.
"First, people are actively turning to search engines for potentially serious symptoms, so we need to make sure high-quality information is prioritized appropriately and consider streamlining access to appropriate care," he said. "Second, search engine query data are imperfect for many reasons, but they appear to provide a valuable resource for research in cardiovascular disease that warrants future work." – by Melissa Foster
Reference:
Senecal C, et al. Abstract 1171-449. Presented at: American College of Cardiology Scientific Session; March 10-12, 2018; Orlando, Fla.
Disclosure: Senecal reports no relevant financial disclosures.