April 20, 2017
2 min read
Diet drinks may be associated with stroke, dementia
We were unable to process your request. Please try again later. If you continue to have this issue please contact customerservice@slackinc.com.
Drinking at least one artificially sweetened beverage per week was associated with a higher rate of stroke and dementia vs. less than one beverage per week, according to recent findings.
"Sugar-sweetened beverages are associated with cardiometabolic diseases, which may increase the risk of stroke and dementia," Matthew P. Pase, PhD, of the department of neurology at Boston University School of Medicine, and colleagues wrote in the study background. "Limited prior findings suggest that sugar- and artificially sweetened beverages are both associated with an increased risk of incident stroke, although conflicting findings have been reported."
Pase and colleagues analyzed 2,888 adults from the Framingham Heart Study older than 45 years (mean age, 62 years; 45% men) for the stroke arm of the study and 1,484 adults older than 60 years (mean age, 69 years; 46% men) for the dementia arm of the study.
In the 7 years following recruitment, participants responded to a food frequency questionnaire, which recorded their eating and drinking habits, three times. The participants were then followed up for an additional 10 years for incident of stroke or dementia.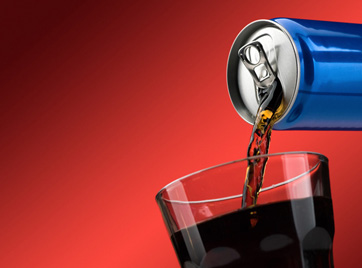 At the end of the follow-up period, stroke occurred in 3% (n = 97; 82 ischemic) of participants and dementia occurred in 5% (n = 81; 63 Alzheimer's disease) of participants.
After adjustment for age, sex, caloric intake, education, diabetes and (for the dementia analysis) the presence of apolipoprotein E, a variant of the Alzheimer's risk gene, those who drank more than one artificially sweetened beverage per week were at higher risk for ischemic stroke (HR = 2.96; 95% CI, 1.26-6.97) and of Alzheimer's disease (HR = 2.89; 95% CI, 1.18-7.07).
These associations were not found with total sugary beverage intake or sugar-sweetened beverage intake.
The researchers reported several limitations, including lack of ethnic diversity in participants, the observational nature of the study and the self-reporting food frequency questionnaire.
"People at increased risk of vascular events because of pre-existing vascular risk factors may switch from regular to diet soft drinks in an attempt to control weight and insulin resistance," Heike Wersching, MD, of the Institute for Epidemiology and Social Medicine at the University of Munster, Germany, and colleagues wrote in an accompanying editorial. "It is entirely possible that the intake of [artificially sweetened beverages] starts after the [CV] risk is increased and, therefore, is a marker of a high-risk profile rather than a causal risk factor for stroke or dementia. ... The work by Pase et al highly encourages further discussion and more research into this question, for even small causal effects would have tremendous effects on public health due to the popularity of both [artificially sweetened beverage] and [sugar-sweetened beverage] consumption." – by Cassie Homer
Disclosure: The researchers and editorial authors report no relevant financial disclosures.